Loading Ramps and Loading Ramp Systems
As the oldest custom ramp manufacturer in the world, we at HandiRamp know how essential a ramp can be for a homeowner or a business. Our mission is to make peoples' lives better with our ramp solutions, so that is why our products are expertly manufactured in-house to be of the highest quality, durability, and safety. Whether your ramp needs are residential or commercial, we offer a wide variety of specialized solutions such as yard ramps, cargo van ramps, wheelchair ramps, and more. 
Top Quality Construction
With ramps being our namesake, we take the manufacturing process very seriously. Unlike other ramps on the market, our ramps are hand-welded in the USA to ensure ultimate durability and usage. Bolted ramps can often become loose, which requires additional vigilance and maintenance as the ramp ages. Welded ramps, on the other hand, will never become loose which makes them exceptionally durable, stable, and safe to use for years to come. 
User-Friendly
Our extensive experience has also helped us to create the most user-friendly ramps available today. Many of our ramps are portable, like our portable delivery ramps or folding wheelchair ramps, so only one person is needed to deploy and stow the ramp. HandiRamp ramps are designed to improve the efficiency of your business, so our commercial ramp solutions like cargo van ramps are also designed for safe, single-person use. 
Safety First
All HandiRamp ramps are equipped with extensive safety features so that you can confidently use your ramp at your home or business. The surface on all of our ramps is non-slip, many featuring our exclusive patented raised-button surface. Because most ramps will be used outdoors, their surfaces were constructed to hold up in all of mother nature's weather conditions like rain, sleet, snow, ice, and debris. 
Every aspect of the ramp production process addresses your safety. For example, handles are welded to the ramps in ergonomic positions so that you can safely deploy the ramp without straining or risking a hand getting smashed. 
Each of our ramps also has its own unique safety features based on its intended use, and it is that attention to detail that makes all the difference. For example, our modular wheelchair ramps require handrails for safe passage for both those walking and those using mobility devices. On the commercial side, our cargo van ramps are equipped with our True Spring Assist technology to aid in the safe deployment of the ramp. 
Exceptionally Versatile
With our wide selection of ramps, you will find the solution that will best address your accessibility or commercial needs. If you don't see the ramp you need, or if you would require one of our ramps to have different specifications, HandiRamp can construct a custom ramp for you. Simply give our friendly ramp experts a call at 800-876-7267!
Our yard ramps allow you to load and unload semi-trailers or other shipping containers in the absence of a permanent loading dock. With various buying and renting options available, HandiRamp can provide you with the mobile yard ramp that will fit your business needs. 
Pallet Jack Ramps
Safely load and unload pallets from trailers and trucks with HandiRamp's pallet jack ramp. This modular ramp features a gentle incline that allows a pallet jack to access a truck, trailer, or dock from ground level. 
HandiRamp's Cargo Van Ramps make loading and unloading your cargo van or box truck safe and efficient. Offered in five different lengths, three different widths, and with either a 1,000 or 1,500 pound capacity, our cargo van ramps offer safe, single-person deployment for any purpose and any load.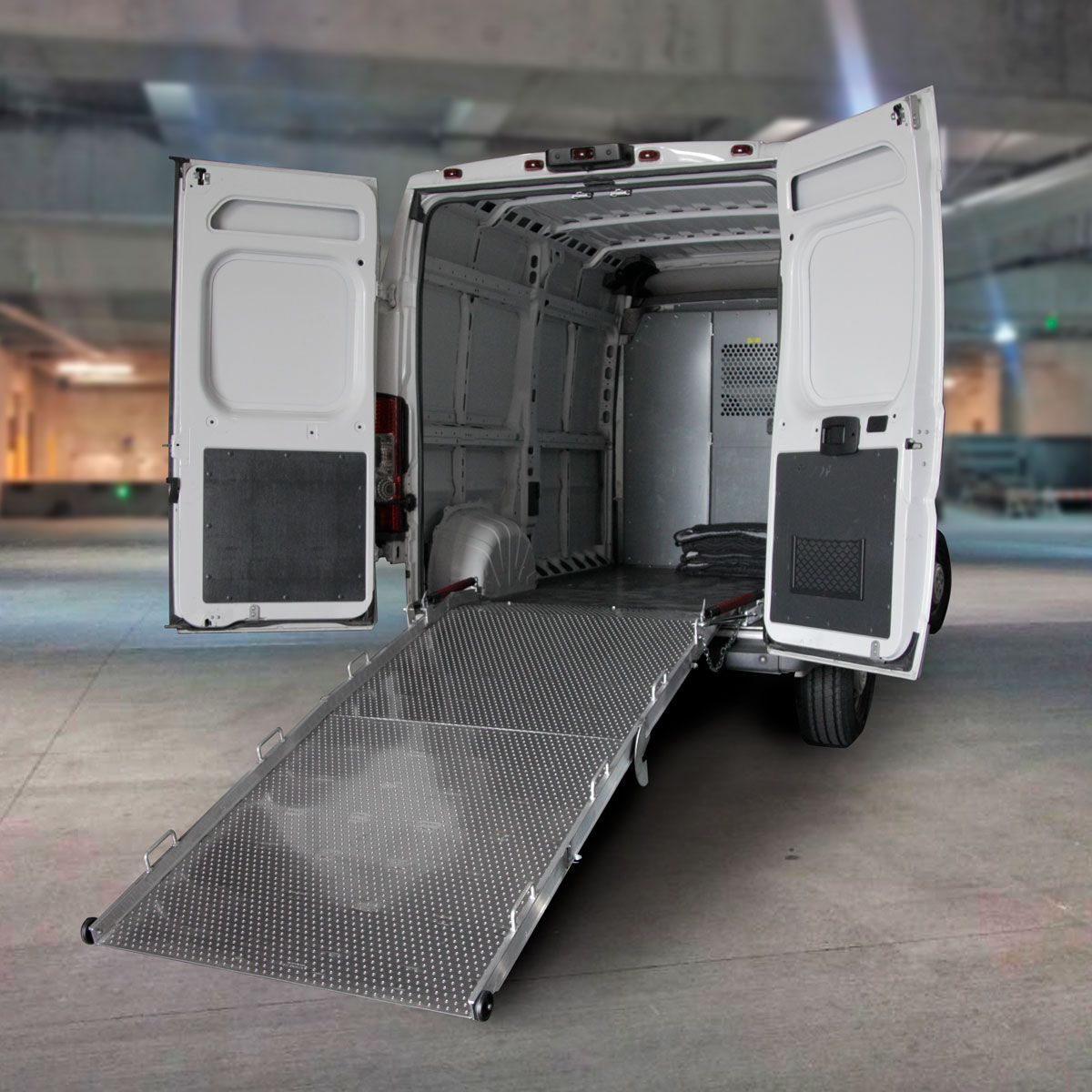 Allow those using wheelchairs, walkers, scooters, or other mobility devices to safely enter buildings. With numerous DIY installation options, HandiRamp's modular wheelchair ramps are one of the most versatile accessibility ramps available. 
Exceptionally portable, our folding wheelchair ramps make various locations accessible for those using wheelchairs or other mobility devices. The ramp can be used to allow someone using a wheelchair to pass over a few steps or to help transport wheelchairs or other mobility devices in vehicles. 
The best part about owning a boat or recreational vehicles like an ATV or motorcycle is to use it. However, it may also be necessary to transport it. HandiRamp offers a variety of ramps that allow you to safely transport ATVs, motorcycles, snowmobiles, segways, and boats. 
Handi-Ramp's Loading Ramps for motorcycles, lawn equipment's, ATVs, vehicles, and other heavy equipment are designed to make unloading and loading easier. Available in many sizes and weight capacities, you can make sure you are getting the exact product to meet your specific loading needs.
Product Categories
---
Call (800) 876-7267 to Discuss Your Needs
*An additional shipping charge will be added for orders outside of the contiguous United States.