Call our yard ramp experts at (800) 876-7267
---
What is a Yard Ramp?
A yard ramp is a portable loading dock. It is a ramp which can be moved anywhere in a shipping and receiving yard to give forklift access to a shipping container or semi-trailer at a loading dock level.
Yard ramps fulfill an important niche as a productivity tool, enabling the user to move heavy equipment via forklift from ground level to loading dock level. The chief purpose of a yard ramp is to facilitate the loading and unloading of semi-trailer trucks at locations that lack a loading dock. Alternatively, a yard ramp can be used to allow vehicles to enter a warehouse through a loading dock door.
---
Standard Yard Ramp Features
Steel Construction
Steel Safety Side Curbs
Reinforced Approach Apron
Serrated Steel Grating Surface
With or Without Level Off
2-Speed manual crank (Other options available. See below.)
Steel Wheels (Other options available. See below.)
Standard Tread Plate Lip
The 16-inch tread plate lip extends into the trailer or over the dock edge for smooth transitions.
Standard Safety Chains
Two 36″ chains hold the yard ramp securely to the trailer or dock; for dock-to-ground applications. Optional chain brackets are available.
---
Optional Portable Loading Ramp Features and Accessories
What types of wheels are available?
Wheels for the yard ramp can come as Steel Wheels or Solid Rubber Pneumatic Profile Tires. Most customers use the solid 9″steel wheels.
How can I secure a trailer I want to unload when no tractor is attached?
Customers can use a Trailer Stabilizing Jack to keep the trailer from upending or shifting during loading and unloading.
Are these yard ramps recommended for unloading all types of materials?
The steel yard ramp may scrape against the ground while moving of the ramp and create a spark, which can be dangerous for combustible or flammable materials. For these applications, an Aluminum Yard Ramp can be ordered.
What other tools and equipment can be used?
A forklift is used to move the yard ramp with an attachment of either a Ramp Clamp or Tow Bar to push the ramp from the front or back, respectively. Additionally, a Portable Loading Platform can be set up to make more loading and unloading multiple trucks easier or to improve forklift access.
Ask a Question Buy Now Learn More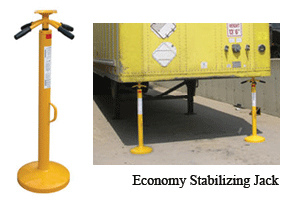 ---
How to Determine the Right Forklift Ramp for Your Needs
The specific model of yard ramp you need depends on 3 or 4 factors:
The width of your forklift (usually 48-86 inches). It may vary more or less.
The weight capacity you require (about three times the capacity of your forklift).
Whether you access a semi-trailer or a loading dock door.
If accessing a loading dock, the dock height is also required.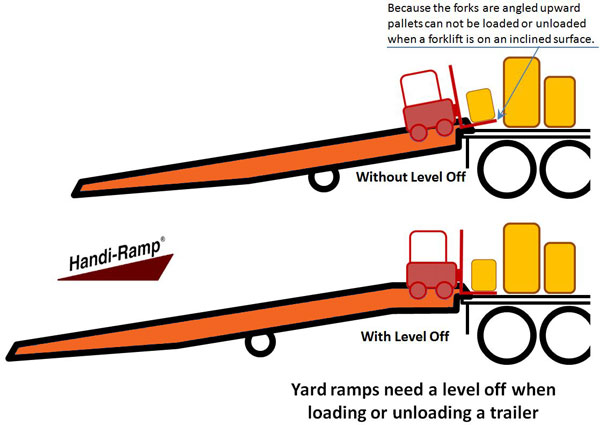 Read more about selecting yard ramp dimensions and capacity.
---
Work with Experienced Yard Ramp Experts at Handi-Ramp
We have a team of experts that can quickly understand your specific needs and recommend the most cost-efficient solution.
Our seasoned team of experts understands every aspect of buying and using yard ramps, and will help you buy, lease or rent the best forklift ramp to meet your needs.
Call (800) 876-7267 to Discuss Your Needs
When you choose Handi-Ramp you work with an experienced team that will:
Help you decide on the best ramp system for your money, and repurchase the yard ramp when you no longer need it.
Provide you with the lowest delivered price for any yard ramp. Watch out for those dealers that show you retail prices on line! Shipping a yard ramp is challenging, they cannot provide you with the best delivered price using an online shopping cart. We will meet or beat any of our competitor's prices.
Get you a yard ramp fast. We have all been there and we realize that sometimes you need it yesterday. We'll do our best to get it to you as quickly as possible.
Provide the best one-on-one, friendly service, on which Handi-Ramp has built its more than 60-year reputation!
Learn more about renting a yard ramp or purchasing a used yard ramp and a wealth of other information in our Yard Ramp Knowledge Base. You can also start your quote now with our easy to use form or call our toll-free customer service line.
(800) 876-7267
---
Frequently Asked Questions
Case Studies
Industry Resources
Material Handling Associations
Related Pages