Aluminum Ramps for Wheelchairs and Scooters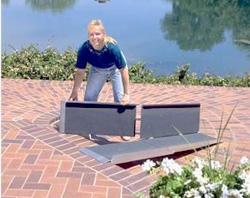 These lightweight aluminum multifold ramps have been safety tested at a 3x safety factor and are easy to handle and set up. The ramps fold in half so they can be carried like a suitcase and they can also be separated into two pieces for easier carrying. Each ramp has a full 30″ wide platform to provide excellent stability which is ideal for wheelchairs or scooters with various wheel configurations. They are great for transitioning curbs, stairs, porches, and much more.
These portable ramps are made in the USA and have several key features including: a patented hinge that eliminates pinch point, an attached safety guide to indicate a safe slope, welded fabrication for strength, surfaced with anti-slip traction tape, and come complete with steel security pins and a safety Video.
Ramps are available in 5, 6, 7, and 8 foot lengths. All of the ramps have an 800 lb weight capacity.
*FREE GROUND SHIPPING!
Please contact us at (800) 876-RAMP for any help you may need in measuring.
Our expert staff is happy to provide any assistance.
Features
Separate into two pieces for easy carrying
Patented center joint hinge eliminates pinch point and adds strength
Folds in half, carries like a suitcase
Durable welded fabrication
Anti-slip, high traction surface
Accommodates wheelchairs and scooters with various wheel configurations
*FREE GROUND SHIPPING to the contiguous U.S.
Made in the USA
Closure strap locks the ramp panels together
Safety guide indicates a safe slope
Safety DVD and steel security pins are included
Assisted Max Rise is the reasonable maximum rise with assistance.
ADA Max Rise is the Americans with Disabilities Act recommended maximum rise.
*An additional shipping charge will be added for orders outside of the contiguous United States.
Additional shipping charges may apply for residential, limited access locations, and lift gate needs.
Need a quote? Contact us at (800) 876-7267