So you have a semi truck trailer or shipping container you need to unload, but there is no loading dock built where you are. You may have a forklift, hand truck, pallet jack, drum jack or drum dolly to move the contents. You want to get the contents off the truck or container safely and quickly. What can you do?
How to Use a Forklift to Unload a Truck Trailer without a Loading Dock
If this is your situation, you need a portable yard ramp. A yard ramp is a commercial ramp with a high weight capacity that can be moved into place for loading or unloading of a trailer. The top of the yard ramp will have a level off so the forklift can access the cargo at the end of the container or trailer.
▸ Buy New Yard Ramps
Handi-Ramp yard ramps provide the perfect way to load and unload trailers and containers quickly, safely and cost-effectively.
Largest selection of in-stock ramps
50 years of portable yard ramp expertise
Competitively priced delivery
Proudly made in Kenosha, WI
▸ Rent Yard Ramps
If you have plans to build a loading dock in he near term, then renting a yard ramp might be the right choice. The temporary use of a yard ramp, forklift ramp or container ramp is often the most affordable choice. Here are some frequently asked questions.
Rent from an industry leader you can trust
Easy monthly payment option
▸ Used Yard Ramps
The cost of a new yard ramp might not make economic sense your need for a yard ramp is temporary or infrequent.
You can save as much as 40% off the price of a new ramp by purchasing a used yard ramp!
The broadest network of yard ramp dealers
Largest selection of used portable forklift ramps
Cost-Effective pricing and transportation
We buy used ramps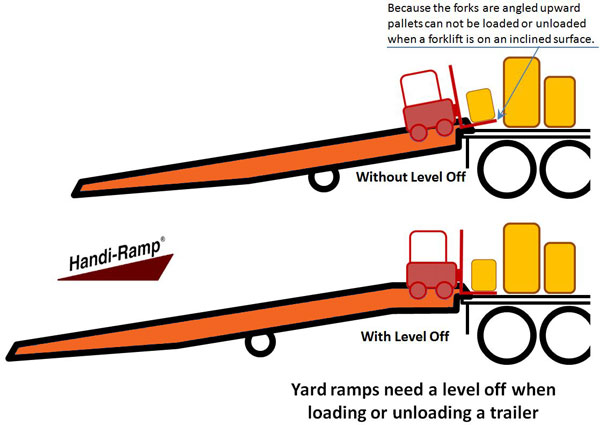 How to Use a Forklift to Unload a Shipping Container
A shipping container may be parked on the ground and needs to have contents put in or taken out, but there is a lip between the ground and the floor of the container. To safely access the container with a forklift, you need a dock board. Dock boards are also used in between a loading dock and the trailer or container. They will have enough capacity to support the forklift and the cargo being moved.
How to Use a Hand Truck or Pallet Jack to Unload a Truck without a Loading Dock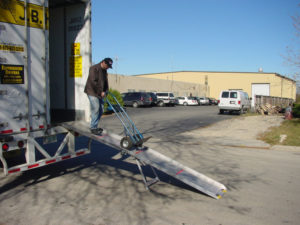 Some semi truck trailers will have a pneumatic lift at the back to allow the contents of the trailer to be loaded and unloaded. Others will use a conveyor or require the team to bring the cargo down by hand onto a pallet jack or hand truck. The other option is to use a portable delivery ramp.
A portable delivery ramp can be attached to the back of the container or trailer and allow a safe and quick unloading of the cargo. Some pallet jacks may be too wide to use on the standard delivery ramps, but custom ramps can be ordered to fit your needs.
How to Use a Hand Truck or Pallet Jack to Unload a Shipping Container
Just like how a container can be unloaded with a forklift using a dock board, the container can be unloaded with a pallet jack or hand truck with the use of a dock plate.
The dock plate doesn't need to support as much capacity without a forklift driving over it and will match this job perfectly.
The experts at Handi-Ramp are here to help you with any loading or unloading challenge. Give us a call at 1-800-876-RAMP.